FOR IMMEDIATE RELEASE
Contact: Rachel Rokicki at Random House (212) 782-8466 or rrokicki (at) randomhouse (dot) com
740 PARK
The Story of the World's Richest Apartment Building
By Michael Gross
"740 Park is a historical building that is worthy of the comprehensive and fascinating coverage that Michael Gross has devoted to it. This book is as entertaining as it is informative — it's a terrific story." — Donald Trump
In the tradition of Tom Wolfe's Bonfire of the Vanities, Stephen Birmingham's Our Crowd, Dominick Dunne's People Like Us and Jennet Conant's Tuxedo Park, 740 PARK: The Story of the World's Richest Apartment Building (Broadway Books; October 18, 2005; $26.95; 0-385-51209-0; 531 pages) is a riveting look inside the decadent sprawling apartments, illustrious personalities lives and high society secrets of New York's most exclusive residential co-opbuilding. New York Times bestselling author Michael Gross gives us the epic story of the last of the great apartment buildings houses to rise on Manhattan's Gold Coast. APart exposé, part social history, it offers a history penetrating look at not only its bold-faced residents (Bouviers, Rockefellers, Chryslers, Spyros Niarchos, Steven J. Ross, Ronald O. Perelman, and Henry Kravis among them) ofbut also its builders and, its staff, its glitzy residents (the Bouviers, the Rockefellers, the Chryslers, Steven J. Ross, Ronald O. Perelman, etc.) — as well as a rollicking ride through n entertaining examination of the history of American wealth.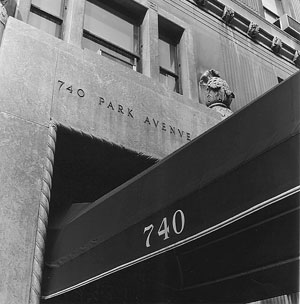 For 75 years, 740 PARK has been Manhattan's richest apartment building, and one of the most lusted-after addresses in the world. One apartment had 37 rooms, 14 bathrooms, 43 closets, 11 working fireplaces, a private elevator and his-and-hers saunas, another at one time had a live-in service staff of 16. To this day, it is steeped in the purest luxury, the kind most of us could only imagine, until now.
The last great building to go up along New York's Gold Coast, construction on 740 Park finished in 1930. Since then, 740 has been home to an ever-evolving cadre to some of our wealthiest and most powerful families, some of America's (and the world's) oldest money — the kind attached to names like Vanderbilt, Rockefeller, Bouvier, Chrysler, and Marshall Field — and some whose names evoke the excesses of today's monied elite: Kravis, Koch, Bronfman, Perelman, Steinberg, and Schwarzman. All along, the building has housed titans of industry, political power brokers, international royalty, fabulous scam-artists and even the lowest scoundrels.